Please report any queries concerning the student data shown on the profile page to:
Email:
portico-services@ucl.ac.uk
Help Desk: http://www.ucl.ac.uk/ras/portico/helpdesk
Slade School of Fine Art
UCL
Gower St
London
WC1E 6BT
Appointment
Reader in Fine Art
The Slade School of Fine Art
Faculty of Arts & Humanities
Biography
Rideal completed a Foundation at Brighton Polytechnic in 1972/3, a BA Combined Honours in English and Fine Art at Exeter University and Exeter College of Art in 1973/76 and a Post Graduate Certificate in Education at Exeter University in 1978.
From 1982 she has worked in the Education Department of the National Portrait Gallery and from 1992 in the Painting Department of the Slade.
Research Groups
See More
See Less
Research Themes
See More
See Less
Research Summary
Rideal's commission Light Curtain/Drop Sari for the exhibition Cotton: Global Threads, at The Whitworth Art Gallery Manchester University (2012) was to animate the Victorian architecture by night and produce a parallel film installation to be viewed by day within the galleries. Research was funded by a British Academy Grant, enabling her to film the cotton industry in India. Connections beyond the gallery occur through the projected film and LED lighting, reviews, public participation and data inclusion in the Open University Open Art Archive further embrace a broad audience and ensure the longevity of the project.
The connected research themes of drapery and portraiture have been important elements since the late 90s. The curtain often seen in the background of a portrait was referenced in her paper Drapery and Pattern (National Gallery conference; Drapery in Visual Culture: contexts, clothing, corporealities) and published in The Journal of Cloth and Culture, (Berg, Oxford & New York, 2003)
Rideal also curates exhibitions, The Drapery Painter: Van Aken and other unsung heroes (1985) prefigured much of her work with flowing cloth, including Kerfuffle - a vast hoarding of red drapery (24 x 16 metres) that covered BBC Broadcasting House for seven months during its restoration in 2004.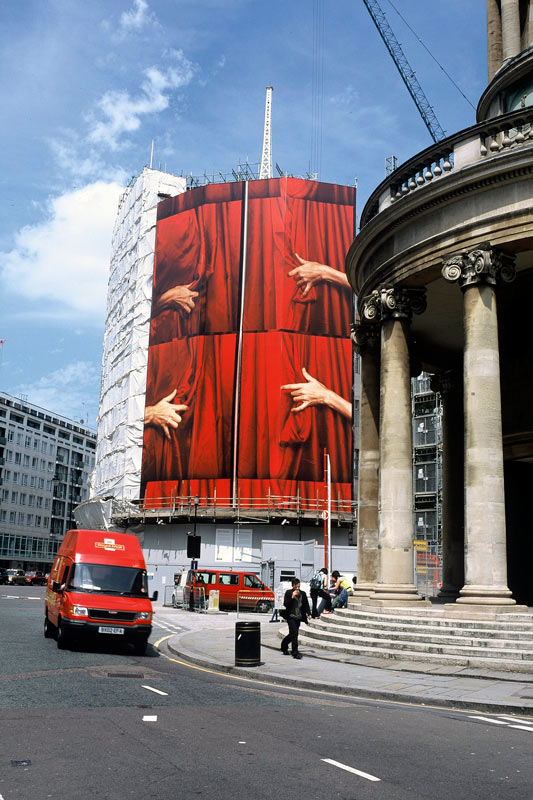 The University of Massachusetts held a retrospective of her work in 2002, this showcased her groundbreaking interactive photobooth work; Identity, lyrical drapery pieces, monotype prints and bronze sculpture. Permanent and temporary public installations followed such as Glass Wall and Light Column, Birmingham Hippodrome Theatre (2001-5). Fall, River, Snow, Compton Verney (2006). Cloth Fair (2007) at Bart's, Hawthorn Hall of Mirrors for the Churchill Hospital, Oxford (2009) and The Green, Green Glass of Home, V&A (2009).

Rideal curated the exhibition, Mirror/Mirror: Self-Portraits by Women Artists at the National Portrait Gallery, 2001, the catalogue was co-authored with Professor Whitney Chadwick and Frances Borzello (and co-published by Watson-Guptill, NY). She chaired and organised the related international conference also giving a paper: Identity. Insights - Self-portraits (2005), was the first book published that concentrated solely on the National Portrait Gallery Collection of self-portraits.
Rideal's work is held in museums and collections worldwide including, Tate,V&A, The British Museum, Arts Council England, Government Art Collection, UK. The Yale Center for British Art, and The George Eastman Kodak Museum for Film & Photography, USA. La Biblioteque Nationale, Paris, The Vancouver Art Gallery and The Museet for Fotokunst, Denmark.


http://www.npg.org.uk/research/staff-research-profiles/liz-rideal.php

Teaching Summary
I have been privileged to enjoy a productive interrelationship between two institutions, the Slade (UCL) and the National Portrait Gallery. This involves me in different types of educational practice, one engaged in studio fine art production and the other in a more public dialogue within the art gallery. At the Slade I have contributed to teaching, supervision, curriculum development and assessment.
Appointments
| | | | |
| --- | --- | --- | --- |
| 01-OCT-1999 | Lecturer Fine Art | Painting Department | Slade School of Fine Art, UCL, United Kingdom |
| 01-OCT-1992 – 30-SEP-1998 | Lecturer Postgraduate Painting | Slade School of Art | UCL, United Kingdom |
Academic Background
| | | | |
| --- | --- | --- | --- |
| 1978 | PGCE | Postgraduate Certificate in Education – Academic studies in Education | University of Exeter |
| 1976 | BA | Bachelor of Arts | University of Exeter |